Dorwest Herbs
Munchkins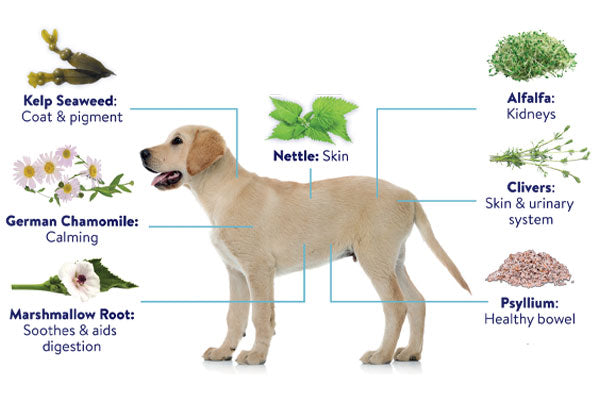 Dorwest Herbs are a family business with over 70 years' experience, offering herbal support for our pets. It is safe to say with 70 years' experience, they are indeed experts in herbal pet care. So, what do Dorwest offer? They offer a huge range of natural supplements which offer natural support for digestive health, joint & mobility support, skin & coat, stress/anxiety and general health and well-being.
Our pets can suffer from health issues, but we love that we can offer natural support. Below we will list the various health issues and the supplements Dorwest Herbs offer which can help. Remember if you would like any supplement that is out of stock, we will always happily order it in for you.
Digestive Health
We've all been there, out on a walk with our dog only to witness a runny poop that is impossible to pick-up using a poop bag. It is never fun seeing our pets suffer from an upset tummy, be it diarrhoea, sickness or tummy gurgling. We all know that some conditions can be chronic and extremely painful and will need veterinary care, with possible ongoing medications. We can however, use natural supplements to aid some conditions. Please check with your vet if your pet is receiving ongoing treatment.
Digestive Tablets for Dogs & Cats – "Gurgling tums, wind and flatulence can affect all pets at various times and some are especially prone to this type of discomfort. This supplement contains calming herbs such as ginger and valerian, rhubarb and peppermint to aid digestion and slippery elm to soothe and comfort."
Tree Barks Powder for Dogs & Cats – "Three herbs renowned for their digestive health properties work together provide effective digestive support, for comfortable tummies and normal stools. Slippery elm bark – contains mucilage, a sticky substance that helps maintain good bowel regularity and stool consistency Marshmallow root – another powerful mucilagenous herb that coats the gut, soothing and assisting gut transit White poplar bark – helps to keep tummies comfortable, thanks to its soothing properties"
Joint and Mobility
When we think of joint and mobility problems, we usually picture older dogs with arthritis, but younger dogs can suffer from joint and mobility issues too. Some dogs are extremely active (working dogs, sports dogs), constantly on the go, it is important to support their joint health. Dorwest Herbs have lots of options to aid joint and mobility health –
Turmeric Tablets for Dogs & Cats – "Our specially formulated Turmeric Tablets for dogs and cats are made using a pure and potent extract. Consisting of 95% curcuminoids – the active part of turmeric – they can help support your pet`s natural anti-inflammatory processes. This may be of particular benefit to pets with troublesome joints. Extracted from whole root and with added Bioperine® (black pepper extract) to help boost absorption, you can be sure that our supplement has maximised quality and bioavailability."
Cod Liver Oil Capsules for Dogs & Cats – "The breakthrough in understanding of the benefits of cod liver oil really came with the discovery of the functions of omega 3 fatty acids found in fish oils. Omega 3s are important for the regulation of a number of body processes and functions. They are also important in heart health, in the development of the eye and brain in young animals and in skin and hair condition. This slow release capsule ensures your pet gets the benefits of omega 3 over time without any unpleasant taste. It's is an excellent source of Vitamin D, needed for strong bones and absorption of calcium, and vitamin A which is also important for skin and hair quality. Often given to maintain mobility and supple joints, this is a great choice for active and working dogs."
Glucosamine & Chondroitin tablets for dogs & cats – "Using the most concentrated and easy to absorb form of high grade glucosamine hydrochloride, this supplement provides the building blocks to manufacture collagen and proteoglycans in the joint cartilage and the synovial membrane which produces the fluid lubricating the joints. Chondroitin has an additive effect alongside glucosamine helping to maintain flexibility and mobility. Both ingredients are from sustainable sources."
Skin & Coat
We love seeing shiny coats and healthy skin, unfortunately our pets can suffer from numerous skin issues. Allergies and itching are becoming more common, so let's take a look at the options Dorwest have available.
Keeper's Mix Sensitive for Dogs and Cats – "An even gentler and milder flavoured version of our best-selling original Keeper's Mix supplement – developed to provide the same whole-body benefits and ideal for young dogs and cats, or those with known sensitivities. The blend of seven herbs are perfectly balanced to provide natural antioxidants (to neutralise free radicals), vitamins, minerals, chlorophyll, fibres and complex bioactive compounds while being especially gentle on the gut and other organs. Keeper's Mix Sensitive naturally promotes all-round health by supporting vital organs and encouraging a thick and healthy coat."
Omega Star for Dogs – " A naturally balanced blend of Omega Oils containing superior natural ingredients. UK grown cold pressed Flax Seed Oil provides high levels of Omega 3 & 6 oils. These are important in regulating skin renewal, keeping scurfiness under control and improving coat condition and quality."
Paw & Nose Balm – "This new addition to our range, is an ultra-nourishing balm to soften and soothe crusty noses and sore cracked pads.  It has no added fragrance from essential oils so is perfect to use on dogs highly sensitive noses."
Soothe and Calm Shampoo – "Specially formulated for sensitive skin, this nourishing, natural shampoo for dogs and cats helps to restore, moisturise and rebalance. It combines the soothing and hydrating powers of oatmeal, aloe vera and chamomile extract with the calming properties of lavender essential oil and extract. A neutral pH ensures this shampoo works harmoniously with your pet's skin and by using no artificial fragrances, SLS or parabens and being free of silicone, mineral oil and PEGs, it`s both natural and hypoallergenic. From helping to relieve dry, irritated or flaky skin, to maintaining healthy skin and a glossy coat, this shampoo provides the perfect pamper treat for your pet."
Stress/Anxiety
Like us, our pets can indeed suffer from stress and anxiety. Some pets can be stressed by fireworks whereas others may be generally nervous. Fear not, we can try to support our pets naturally using the power of herbal support. Dorwest has brilliant options to help ease our pets' stress, so let's take a look at what they can offer.
Skullcap and Valerian Tablets for Dogs and Cats – "Our Scullcap & Valerian Tablets help to naturally relax your pet, with the active herbs naturally supporting the calming pathways within the nervous system, reducing anxiety without immobilising muscles or causing drowsiness. They don't make pets dopey or wobbly – in fact they are widely used for agility and show dogs when they need to be alert and focussed, but calm. One of our best-sellers, Scullcap & Valerian Tablets help tackle stress, fear and anxiety, whatever the cause, so you and your pet can relax, no matter what."
Damiana & Kola Tablets for Dogs and Cats – "Is your pet feeling a bit lacklustre? Let us help you put a spring back in their step! Using a powerful trio of herbs to increase alertness, vitality and stamina, this supplement is the perfect pick-me-up for pets with low energy levels, such as those recovering from a recent illness or suffering bereavement. It can also give your pet a much-needed boost when they need to perform at their best, such as in the show ring."
Valerian Compound for Dogs and Cats – "Frightened, anxious, hyperactive and stressed animals can be calmed quickly using this easy to give liquid. Dropped into the mouth, given on food or even just a few drops sprinkled on a pet's bedding can result in a more amenable pet, so visits to the vet, travelling or moving house instantly become less stressful situations. Cats particularly love the smell of Valerian Compound, so administration really couldn't be simpler."
As you can see, Dorwest Herbs offer many supplements that can support our pets' health naturally. We haven't even covered all the products available. We are always happy to help you, pick supplements for your pets, we have leaflets in store offering more information on the range available from Dorwest Herbs. If you would like more information, you can check out the website here – https://www.dorwest.com/ Alternatively you can request to join Dorwest Herbs Facebook group – https://www.facebook.com/groups/1241876265912681/